I just finished my greeting cards for this year.  I ordered them through Shutterfly (along with a few other photo gifts and a TON of prints for R's birth family).  We took our photos on Thanksgiving up at the cabin (where it snowed like crazy the whole way up. As an AZ native, snow is SCARY!).  Riley loved the snow like she was born to be Alaskan and had a super blast.  It was a quick turn around trip for us since we both had to work the day after Thanksgiving, so it was fun but not relaxing at all.
I loved working with Shutterfly on this and I am absolutely in love with the way these turned out.  I feel so fancy with my face on the front of a folded greeting card!  Anyway, here we are in all of our holiday glory.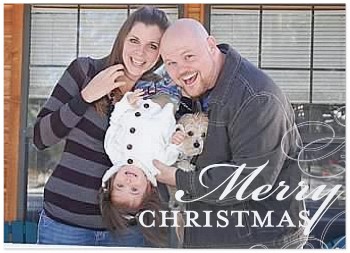 Merry Christmas Script Christmas 5×7 folded card
Happy Holidays my internet friends!